About
Greetings from the President
Tokyo Bunka Kaikan was founded in 1961, building a brilliant history as the Music Hall of Fame of Japan for more than half a century.
On our stage, legendary maestros have played a majestic score with their baton, divas of our century have mesmerized our audience with their lustrous voice, and dancers whose names are etched in the history of dance have given us a wonderful physical performance that's in a class of its own.
Performing arts feed our sensibilities, our soul, and our spirit. In truth, from the ancient times to today, people have created, enjoyed, and passed down art in its many forms.
Japan is facing a serious decline in birth rate and increase in the population of the elderly. Messages that art delivers and the energy that art gives to our spirit will continue to be needed. We need to believe in the power of art, and Tokyo Bunka Kaikan will continue to serve as the Hall of Fame and a place that spreads art to the public.
HIEDA Hisashi
President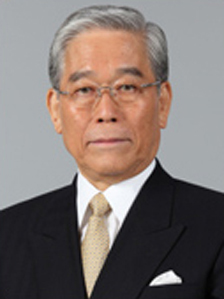 Bio
Fuji Media Holdings, Inc., Executive Managing Advisor / Fuji Television Network, Inc., Executive Managing Advisor
Born December 31, 1937. Graduated from Faculty of Education, Waseda University.
April 1961
Joined Fuji Television Network, Inc.
June 1983
Promoted to a Director of the Board / Editor in Chief
June 1986
Promoted to Managing Director charged with General Development Section
June 1988
President and CEO
June 2001
Chairman and CEO
April 2003
The Japan Commercial Broadcasters Association, Chairman
July 2003
CEO of Fuji Sankei Group
October 2008
Fuji Media Holdings, Inc., CEO & Chairman
June 2017
to date
Fuji Media Holdings, Inc., Executive Managing Advisor (current post) / Fuji Television Network, Inc., Executive Managing Advisor (current post)