Tokyo Music Competition
OGAWA Kyoko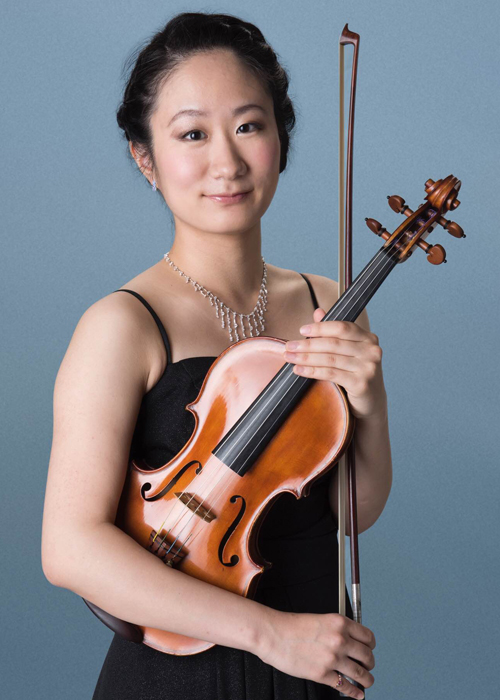 Violin
Born in: Nara Prefecture, Japan
1st place, and Audience Award, String Section, The 10th Tokyo Music Competition 2012
Musical Study Experiences
Began learning violin at 5 years of age through the Suzuki Method
In the Suzuki Method Summer Course, took master classes from Toyoda Koji
Participated in the Sado Yutaka Super Kids Orchestra
2005 Attended the Académie de Musique Française de Kyoto and took lessons from Alessandro Moccia, Jean-Pierre Wallez, Regis Pasquier, and Mori Yuko
2008 Attended the Ishikawa Music Academy and took lessons from Harada Koichiro, Kamio Mayuko, Regis Pasquier, Krzysztof Wegrzyn, Oleh Krysa, and Nam Yun Kim
2011-2012 Attended the Ozawa International Chamber Music Academy Okushiga and took lessons from Ozawa Seiji, Harada Sadao, Kawasaki Yosuke and Kawamoto Yoshiko
2012 Took lessons from Gérard Poulet in Master Classes at La Folle Journée au Japon 2012
Attended the Maurice Ravel International Academy of Music (Saint-Jean-de-Luz, South France) and took lessons of violin from Regis Pasquier, chamber music from Jean-Francois Heisser and Peter Csaba
Currently studies at the Faculty of Music at Tokyo University of the Arts

Teachers
Previously studied under Shioya Mineko, Nishiwada Yuh, and currently studies under Urushihara Asako, Harada Koichiro. Also studies chamber music under Yamazaki Nobuko, Oseki Hiroaki, and viola under Ichitsubo Toshihiko.

Musical Careers
2005
3rd Place, Violin Category, Middle School Division, Osaka Regional, the 59th Student Music concours of Japan
2006
1st Place at Osaka Regional and 2nd Place at National, Violin Category, Middle School Division, the 60th Student Music concours of Japan
2011
At the Ishikawa Music Academy won the Ishikawa Music Academy IMA Encouragement Award
2012
Encouragement Award, the Salzburg=Mozart International Chamber Music Competition 2012 (Japan)
Performed in the Excellent Students Concert at Académie de musique française de Kyoto
1st Place and Audience Award, String Section, the 10th Tokyo Music Competition
Bonnat Museum Prize, Maurice Ravel International Academy of Music (Saint-Jean-de-Luz, Sounth France)
Further Activities
I have been actively performing at various locations including Nakanoshima International Music Festival, mini-concert at the Kanazawa Station, string quartet recitals at art museums, and salon concerts in my native town.

Repertoire
Baroque to contemporary compositions; unaccompanied pieces, virtuoso pieces, sonatas, concertos.
I am working enthusiastically on piano trios and string quartets as well.