Tokyo Music Competition
YAMASHITA Makiko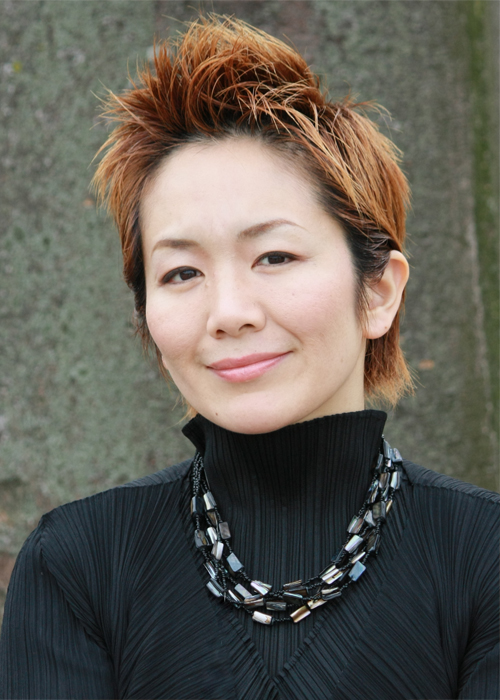 Mezzo-soprano
Born in: Kagawa Prefecture, Japan
1st place, Voice Section, The 1st Tokyo Music Competition 2003
Musical Study Experiences
1994 Graduated from Hiroshima University School of Education
1999 Completed Masters Studies in Vocal Music Major at the Graduate School of Music, Tokyo University of the Arts; completed the 42nd master class at Nikikai Opera Studio; won the Excellence Award at time of completion

Teachers
Studied vocal music under Hirano Tadahiko and Okuda Makoto; classical music and British vocal music under Hatano Mutsumi

Musical Careers
1997
Selected for and performed debut in Mozart "La Clemenza di Tito" as Annio in the regular stage performance at Tokyo University of the Arts;
since then performed in numerous operas and operettas
1998
Berlioz's "Les nuits d'été" as a soloist in the regular stage performance at Tokyo University of the Arts;
later participated with early music performers ensembles among other varied activities
1999
Finalist, the 10th Sogakudo Japanese Song composition competition
2001
Finalist, Vocal Music (Opera Category), the 70th Music Competition of Japan
2002
the Nissay Theatre opera school "Carmen" (Sung in Japanese) as Carmen;
Achieved numerous appearances in various performances with her hard study in German, Japanese, French and British songs during her student years
2003
1st Place, Voice Section, the 1st Tokyo Music Competition;
3rd Place, Vocal Music Category, the 72nd Music Competition of Japan
2004
3rd Place, Vocal Music Category, the 73rd Music Competition of Japan;
Received numerous accolades for the below performances and more
Mascagni's "L'amico Fritz" as Beppe at the New National Theatre, Tokyo, the Pit (June); "Cavalleria Rusticana" as Lola at the New National Theatre, Tokyo (September)
2005
Performed in Berg's "Lulu" as a theatrical dresser, a Gymnasium schoolboy and a valet hosted by the New National Theatre, Tokyo ;
Kuriyama Masayoshi's "La Traviata" as Flora in Nikikai performance (June) ;
Her singing skills received high accolades for Nikikai New Wave Opera "Julius Caesar" as Julius Caesar (October)
2006
Exhibited the full range of her singing ability in "Serse" at the New National Theatre, Tokyo, the Pit (January) ;
performed in Miyamoto Amon's new production "Così fan tutte" starring as Dorabella (November)
Current
Currently Nikikai member and part time lecturer at the Toho Gakuen College Music Department
Further Activities
In opera: Puccini's "Madama Butterfly" as Suzuki, Verdi's "La Traviata" as Flora, Mozart's "Le nozze di Figaro" as Cherbino, "Così fan tutte" as Dorabella, Nicolai's "Die lustigen Weiber von Windsor" as Mrs. Reich; J. Strauss' "Die Fledermaus" as Orlofsky and other operas and operettas

In concerts: Various performances as alto soloist including Berlioz's Summer Nights at the Tokyo University of the Arts subscription concert 1998; Beethoven's 9th; Bach's Mass in B Minor, Magnificat, Christmas Oratorio; Handel's Messiah; Vivaldi's Gloria; Mozart's Requiem, Missa Brevis in F major; Durufleé's Requiem; Verdi's Requiem. Achieved numerous appearances in various performances with her hard study not only in early music but in German, Japanese, French and British songs.

Her vast activity is attracting attentions by working on recitals with ambitious program while performing with Bach Collegium Japan, Conversum Musicum, other early music performance goups, and singing Mozart's Great Mass in C minor at the Yomiuri Nippon Symphony Orchestra subscription concert (led by Suzuki Masaaki).
Repertoire
Opera pieces: Gluck, Mozart, Massenet and Bizet

Songs: Handel and others' Italian classical songs, Schubert, Hugo Wolf, Alban Berg and other Romance Era to modern composers' German songs; Renaissance Period to Modern and Contemporary British Songs
Religious music and symphonies: Major oratorios including Vivaldi, Handel, Bach, Mozart, as well as Beethoven's 9th, Mahler's Resurrection and numerous other alto solo performances with professional and amateur orchestras