Music Program TOKYO

Shining Series: Vol.13 Tokyo Bunka Kaikan Chamber Orchestra
Notice to Visitors to the Tokyo Bunka Kaikan (Infection Prevention Measures)
| | |
| --- | --- |
| Date | Sun, Jan 14, 2024 15:00 (Open 14:30) |
| Venue | Tokyo Bunka Kaikan Recital Hall |
| Genre | TBK productions Orchestra Concert |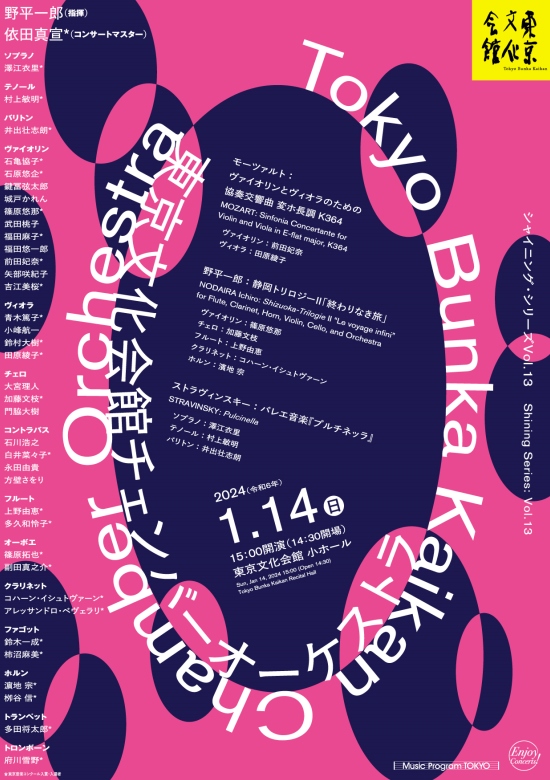 Flyer (PDF)
Conductor

NODAIRA Ichiro




Artists

Concertmaster:




YODA Masanobu *2nd prize of String section at the 4th Tokyo Music Competition







Soprano:




SAWAE Eri *2nd prize (top prize) of Voice section at the 11th Tokyo Music Competition







Tenor:




MURAKAMI Toshiaki *3rd prize of Voice Section at the 3rd Tokyo Music Competition







Baritone:




IDE Soshiro *3rd prize of Voice section at the 17th Tokyo Music Competition







Violin:




ISHIGAME Kyoko *3rd prize of String section at the 3rd Tokyo Music Competition




ISHIHARA Yuki *Finalist of String section at the 13th Tokyo Music Competition




KAGITOMI Gentaro




KIDO Karen




SHINOHARA Yuna *2nd prize of String section at the 11th Tokyo Music Competition




TAKEDA Momoko




FUKUDA Asako *1st prize of String section at the 19th Tokyo Music Competition




FUKUDA Yuichiro




MAEDA Hina *1st prize and Audience Award of String section at the 18th Tokyo Music Competition




YABE Sakiko




YOSHIE Mio *3rd prize of String section at the 12th Tokyo Music Competition







Viola:




AOKI Atsuko *1st prize of String section at the 2nd Tokyo Music Competition




KOMINE Koichi




SUZUMURA Taiki *3rd prize of String section at the 9th Tokyo Music Competition




TAHARA Ayako *1st prize and Audience Award of String section at the 11th Tokyo Music Competition







Cello:




OMIYA Yoshito




KATO Fumie *2nd prize of String section at the 7th & 8th Tokyo Music Competition




KATO Yoko




KADOWAKI Hiroki







Double bass:




ISHIKAWA Hiroyuki




SHIRAI Nanako *3rd prize of String section at the 13th Tokyo Music Competition




NAGATA Yuki




HOUKABE Saori







Flute:




UENO Yoshie *1st prize of Wind section at the 2nd Tokyo Music Competition




TAKUWA Reiko *2nd prize of Wind section at the 11th Tokyo Music Competition







Oboe:




SHINOHARA Takuya *2nd prize of Wind section at the 9th Tokyo Music Competition




SOEDA Shinnosuke *2nd prize and Audience Award of Wind section at the 13th Tokyo Music Competition







Clarinet:




KOHÁN István *1st prize and Audience Award of Wind section at the 11th Tokyo Music Competition




Alessandro BEVERARI *1st prize of Wind section at the 15th Tokyo Music Competition







Bassoon:




KAKINUMA Asami *3rd prize of Wind section at the 13th Tokyo Music Competition




SUZUKI Kazunari *1st prize of Wind section at the 13th Tokyo Music Competition







Horn:




HAMAJI Kaname * 2nd prize of Brass section at the 8th Tokyo Music Competition




YANAGIYA Makoto *3rd prize and Audience Award of Brass section at the 18th Tokyo Music Competition







Trumpet:




TADA Shotaro *1st prize and Audience Award of Brass section at the 8th Tokyo Music Competition







Trombone:




FUKAWA Yukino *1st prize of Brass section at the 1st Tokyo Music Competition




Program

MOZART: Sinfonia Concertante for Violin and Viola in E-flat major, K364




Violin: MAEDA Hina




Viola: TAHARA Ayako







NODAIRA Ichiro: Shizuoka-Trilogie II "Le voyage infini"




Violin: SHINOHARA Yuna




Cello: KATO Fumie




Flute: UENO Yoshie




Clarinet: KOHÁN István




Horn: HAMAJI Kaname







STRAVINSKY: Pulcinella




Soprano: SAWAE Eri




Tenor: MURAKAMI Toshiaki




Baritone: IDE Soshiro




Interview with Artist

Read the full article of the interview with NODAIRA Ichiro




Tokyo Bunka Kaikan quarterly magazine "Onmyaku" (PDF only in Japanese)



NODAIRA Ichiro, Conductor
YODA Masanobu, Violin
Tickets
Prices (tax included)

Reserved Seats 3,300yen Under-26s 1,100yen




* Tickets for Under-26s are only available at the Tokyo Bunka Kaikan Box Office. Valid ID required.




Seating Chart of Recital Hall

View Seating Chart




Click the camera icons on the seating chart to check the stage view from the selected area.




On Sale Date

Sat, Aug 19, 2023




BOX Office



Other Information
* The program is subject to change under certain circumstances.
* Pre-school children are not allowed to attend this performance.
* Child care service is available. (Reservation and fee required. A limited number of children is accepted.)
Event Child Care Service: Mother's 0120-788-222
Reservation must be made by Fri, Jan 5, 17:00.
| | |
| --- | --- |
| Organizers & Supporters | Organizers: Tokyo Metropolitan Government/Tokyo Bunka Kaikan operated by Tokyo Metropolitan Foundation for History and Culture |