International Partnerships for Music Program TOKYO Workshop Workshop!

Tokyo Bunka Kaikan Music Workshop "Workshop Concert—Piano"

Discover a whole new world broadening with music across all ages—from infants to adults
Interactive concert by seeing, listening, and experiencing

Upon attending the workshop, please visit this link to go through our precautionary measures to help prevent the COVID-19 spread and notice to visitors.
Please note that there might be additional changes in the performance depending on decisions and orders by the Japanese and Tokyo Metropolitan Government and other governmental authorities.

Date

Tue, Aug 17, 2021 11:00-12:00 (Open 10:30)


Venue

Tokyo Bunka Kaikan Recital Hall

Genre

Workshop TBK productions Workshop Concert

Admission Ages

6 months-6 years (Preschool children) with their families and caregivers
* Children under 6 months of age are not admitted. Adults can enter the venue only participating with admitted aged children.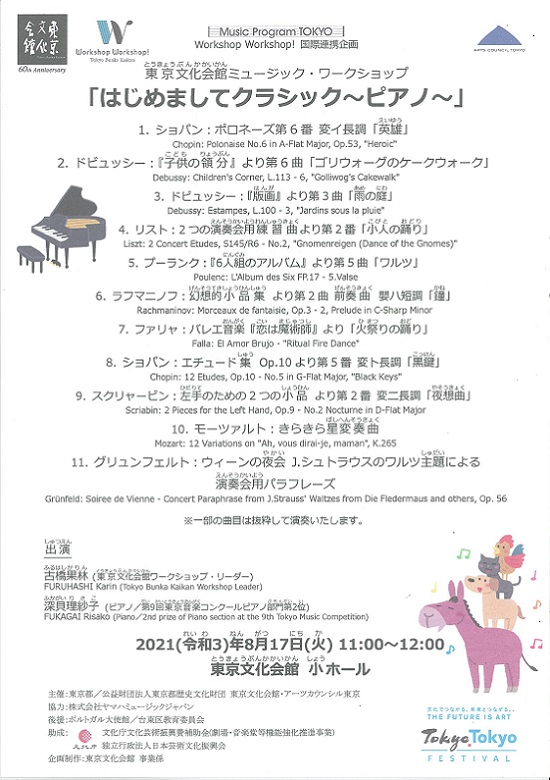 Flyer (PDF)
Movie








Bag Check

Please allow enough time on arrival for the security check of your belongings at the entrance.




Notice to all workshop attendees

Please follow the below precautions. Your understanding and cooperation are much appreciated to help prevent the spread of COVID-19.




⁃ Our staff members conduct temperature screening for all those who are entering the venue. If you have a fever of 37.5°C/99.5°F or higher, we ask you not to attend the workshop.




⁃ Refrain from coming to the venue if you seem to have symptoms such as a fever, cough, sneezing, sore throat, or simply not feeling well.




⁃ Wear a face mask to cover your nose and mouth. If you attend with small children who have difficulty with wearing masks, please show consideration for others.




⁃ Wash and disinfect your hands frequently. Hand sanitizers are placed at the reception desk.




⁃ We will partially change the seating arrangement and stage direction to maintain social distancing.




⁃ We will not have photo shooting after the workshop for the time being.




Artists

Workshop Leader: FURUHASHI Karin (Tokyo Bunka Kaikan Workshop Leader)




Piano: FUKAGAI Risako *2nd prize of Piano section at the 9th Tokyo Music Competition







◇View artists profiles (only in Japanese)




Music to be performed

MOZART: 12 Variations on "Ah, vous dirai-je Maman" K265 (Twinkle, Twinkle, Little Star)




CHOPIN: Etude No.5 in G-flat major, Op.10-5 "Black Keys"




RACHMANINOV: Prelude in c-sharp minor, Op.3-2 "The Bells of Moscow" from Morceaux de fantaisie




DEBUSSY: Estampes-No.3 "Jardins sous la pluie"




and more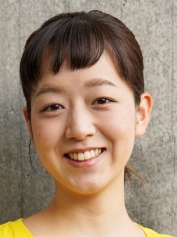 FURUHASHI Karin, Tokyo Bunka Kaikan Workshop Leader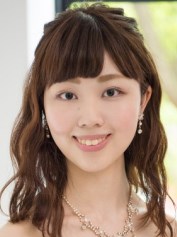 FUKAGAI Risako, Piano
Tickets
Prices (tax included)

Reserved Seats 550yen




* We may verify your children's age when you purchase the tickets or at the venue on the day of the event.




[Day tickets]




Tickets go on sale at 10:30.




On Sale Date

Sat, Apr 24, 2021




BOX Office

Tokyo Bunka Kaikan Box Office (by telephone, in person, online)



Other Information
On participating in workshops

⁃ This workshop is conducted only in Japanese.




⁃ Photography and video recording may occur during the workshop for our publicity materials.




* The admission ages are determined as of the actual date of the event.




* Nursing room is available.




* The program is subject to change under certain circumstances.




* Child care service is available. (Reservation and fee required. A limited number of children is accepted.)




Event Child Care Service: Mother's 0120-788-222




Reservation must be made by Tue, Aug 10, 17:00




Organizers

Tokyo Metropolitan Government/ Tokyo Metropolitan Foundation for History and Culture: the Tokyo Bunka Kaikan, the Arts Council Tokyo