Tokyo Music Competition
OGUMA Saeko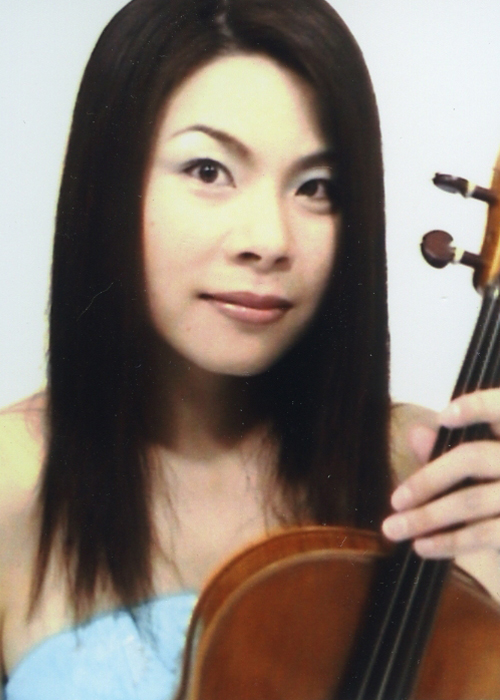 Viola
Born in: Niigata Prefecture, Japan
1st place, String Section, The 4th Tokyo Music Competition 2006
Musical Study Experiences
1994 Graduated from Toho Gakuen Music High School
1998 Graduated from Toho Gakuen College Music Department
2000 Completed the graduate course of Toho Gakuen College Music Department

Teachers
Studied violin under Kuramochi Fumiyo, Okumura Kazuo, Oseki Hiroaki, Kubota Ryosaku, Sumi Takeaki and Eto Toshiya
Studied viola under Okada Nobuo
Studied in master classes with Imai Nobuko, Garth Knox and Rainer Moog
Musical Careers
1987
Performed at Berliner Philharmonie with the Berlin Symphony Orchestra
1998
Viola Recital at the Kyoto Brighton Hotel Relay Concert
1999
2nd Place, the 4th Eto Toshiya Violin Competition
2002
1st Place, National, the 12th Japan Classical Music Competition
2003
2nd Place, the 2nd Nagoya International Music Competition
2004
Led by Ozawa Seiji in the Saito Kinen Orchestra
2005, 2006
Performed in Viola Space 2005, 2006
2006
Performed in the Japan Federation of Musicians Recommended Newcomer Concert; led by Riccardo Muti with Spring Festival in Tokyo Orchestra;
1st Place, String Section, the 4th Tokyo Music Competition
2008
2nd Place, Viola Category, the 15th International Johannes Brahms Competition
2009
1st Place, the 1st Amsterdam Viola Competition
From October, Vice Principal in the Royal Concertgebouw Orchestra
Further Activities
In 2008, enrolled in the Conservatorium van Amsterdam (the Netherlands) and studied under Imai Nobuko, Marjolein Dispa, Sven Arne Tepl; studied in the Orchestra Study Class with Michael Gieler; also was taught Bach and Baroque music by Anner Bylsma.
In April 2010, scheduled to perform concertos in 3 locations in the Netherlands led by Otto Tausk with Symfonieorkest Conservatorium van Amsterdam.
As outside of academic studies, she is active in chamber music, solo recitals and other concerts as well as performing as a guest principal viola of the Amsterdam Sinfonietta in orchestra and chamber music concerts. Her further activities include occasional performances for radio broadcasts.
Previously performed with the Tokyo Metropolitan Symphony Orchestra, the Tokyo Philharmonic Orchestra, the New Japan Philharmonic, the Tokyo Symphony Orchestra, the Sendai Philharmonic Orchestra and Berliner Symphoniker and others.

Repertoire
Bartók's Viola Concerto in particular; it is a piece I always want to perform. Regardless of era, my repertoire includes all pieces studied. And because I become to like pieces as I study them, I will continue to study more new pieces.