Tokyo Music Competition
OKAMOTO Mako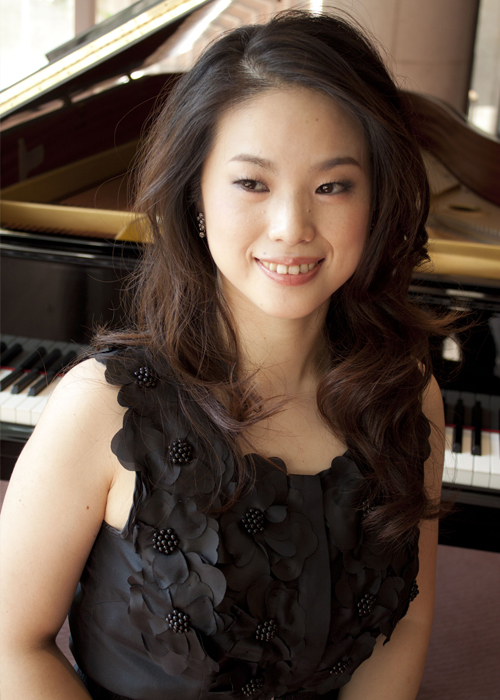 Piano
Born in: Osaka Prefecture, Japan
1st place, Piano Section, The 2nd Tokyo Music Competition 2004
Musical Study Experiences
1996 Graduated from the Piano course at Toho Gakuen Music High School
1997 Graduated from Freiburg University of Music
1999 Graduated from the graduate school of Freiburg University of Music
2004 Graduated from the Performance Certificate course at Hochschule für Musik und Tanz Köln

Teachers
Studied under Nakayama Ritsuko, Inoue Naoyuki, Takeuchi Michiko and Takeuchi Keiko
At the Freiburg University of Music took lessons from Michel Béroff and Dina Yoffe
Studied under Pavel Gililov at Hochschule für Musik und Tanz Köln
Musical Careers
1996
Winner, General Public Category, the 1st Sakai International Piano Competition
1999
Winner with the French Music Prize, the 17th Epinal International Piano Competition
2001
Winner, the Chopin Competition in Cologne
Finalist, the 27th Concours International Marguerite Long Jacques Thibaud
2003
Finalist, Queen Elisabeth International Music Competition of Belgium
2004
1st Place, Piano Section, the 2nd Tokyo Music Competition
2005
Recorded Debussy's Piano Etudes (CD label: Salycus)in Bremen, Germany
Performed with the Japan Philharmonic Orchestra and the Yomiuri Nippon Symphony Orchestra
Appeared on Sky Perfect TV "Konshu no Pianist (Pianist of this Week)"
Current
Currently a part time lecturer at the Piano Major Course at Kyoto City University of Arts
Further Activities
1996-2004
Performed with the Mozart Chamber Orchestra, Montbéliard Philharmonic Orchestra, Lorraine Philharmonic Orchestra, French National Orchestra, the Belgian National Orchestra and other orchestras.
Performed in Mimran Piano Festival in France, Pianoforte-Fest in Meissen, Germany and other music festivals.
Performed in recitals at the Salle Cortot (France), the Palais des Beaux-Arts concert hall in Brussels and the opera house La Monnaie in Brussels.
Performed also in NHK-FM Masterpiece Recital.
Repertoire
My repertoire includes Mozart and Haydn from the Baroque and Classical eras, Schumann and Schubert from the Romantic Era, with a special focus on Chopin's pieces. Among modern and contemporary period, my repertoire is Ravel and Debussy, with Messiaen being the most familiar composer. Other than these, I have been extensively working on not only solos but also various music forms such as chamber music.