Tokyo Music Competition
SHIMIZU Kumi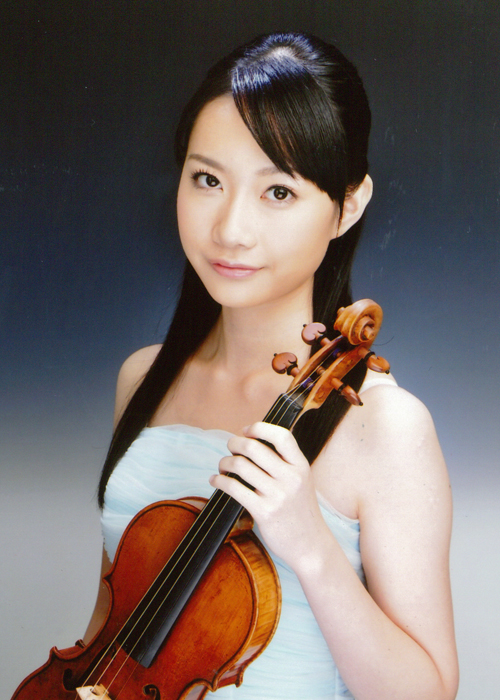 Violin
Born in: Hyogo Prefecture, Japan
3rd place, String Section, The 10th Tokyo Music Competition 2012
Musical Study Experiences
Began learning violin from 3 years of age
Since 2002 studies as a special student of Toyoda Koji's Junior Class at the Talent Education Research Institute (Suzuki method)
2008 Musical training at Musikgymnasium Carl Philipp Emanuel Bach Berlin
2010 Graduated from the Hyogo Prefectural Nishinomiya High School Music Department
Currently studying at the Faculty of Music, Tokyo University of the Arts
Previously taught in master classes by Philippe Koch, Joseph Silverstein, Leon Spierer, Paul Roczek, Pierre Amoyal, Igor Ozim, Felix Ayo, Oguri Machie, Tatsumi Akiko and Hori Masafumi

Teachers
Previously studied under Matsumoto Shozo, Toyoda Koji, Inagaki Minako, Urushihara Keiko, Gérard Poulet, Sawa Kazuki and Eszter Perenyi

Musical Careers
2002
Excellence Award and Special Prize, the 7th KOBE International Students' Music Competition
As a group of Ten Children (Talent Education Research Institute delegation to overseas) performed in solo, piano trio and string ensemble in Berlin and Hof (Germany)
2005
Performed Paganini's Caprice on Radio Kansai
2007
Chosen as a student of master class (open to auditors) of Jean-Jacques Kantorow at the Nakanoshima International Music Festival
2008-09
2nd Place at Osaka regional and Finalist at National, Violin Category, High School Division, the 62nd and the 63rd Student Music concours of Japan
2009
1st Place, Hyogo Prefectural Governor Award and Special Jury Prize, Strings Category, the 21st Takarazuka Vega Music Competition
In following year, performed Saint-Saëns' Concerto No. 3 led by Nakai Akitoku as its extra prize
2010
Won the OSAKA 21st Century Association prize, the 25th Settsu Music Festival
2011
Winner, the 3rd Munetsugu Angel Violin Competition
2012
Participated Seiji Ozawa Music Academy Opera Project XI
3rd Place, String Section, the 10th Tokyo Music Competition
Further Activities
Previously performed concertos of Tchaikovsky, Sibelius, Beethoven, Brahms's 1st and 2nd, Mendelsohn in E minor and D minor with orchestras led by Kitahara Yukio, Izaki Masahiro, Enkoji Masahiko, Kim Hong-Je, Sawa Kazuki, Toyoda Koji. From 2003, participates in Sado Yutaka's orchestra from its first class. In 2005, performed Kansai born professional musicians in front of Japanese royal families at the Great Hanshin Earthquake Memorial Ceremony. In 2008, appeared in Daimei no nai Ongakukai (Untitled Concert). While Shimizu actively performs in various concerts as a concerto soloist, solo, quartet, and other chamber ensembles, she also visits care facilities to give recitals.

Repertoire
A wide range of repertoire from Baroque to contemporary, in particular unaccompanied pieces of Bach, Ysaÿe, Bartók, etc.; Mozart and Mendelsohn's pieces; Chausson and other French composers' works.
Within concertos, my repertoire includes about 30 pieces from Baroque to modern.