Tokyo Music Competition
WATANABE Reina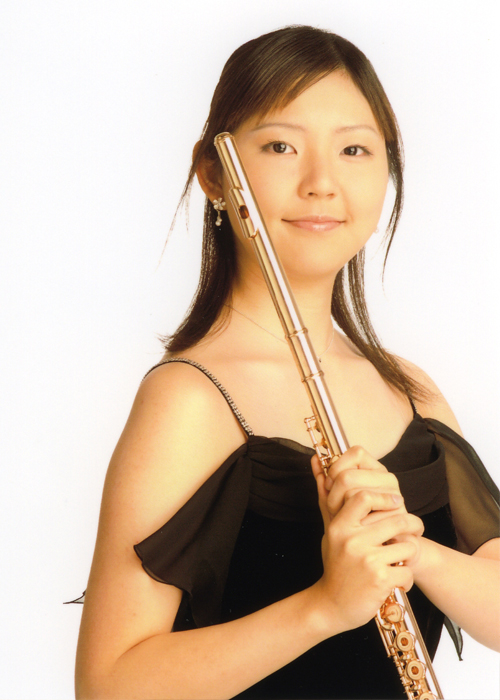 Flute
Born in: Kanagawa Prefecture, Japan
1st place, Wind Section, The 1st Tokyo Music Competition 2003
Musical Study Experiences
2001 Graduated from the Kyoto Municipal Music High School (formerly Music Course at Horikawa High School)
2005 Graduated from Tokyo University of the Arts
Went on to complete master's studies at the Graduate School of Tokyo University of the Arts
After attending the graduate school at Hanns Eisler School of Music, takes National Performer Certificate Program at the same school.

Teachers
Previously studied under Shiraishi Takako, Shimizu Nobutaka, Chang-Kook Kim, Kanda Hiroaki and Takezawa Eisuke
Studied chamber music under Yoshida Masaru
Studied in master classes of Philippe Belnord, Kudo Shigenori, Mathieu Dufour, Aurele Nicolet and Emmanuel Pahud

Musical Careers
2000
1st Place, Highschool Category, the 5th Biwako International Flute Competition
1st Place, National, the 54th Student Music concours of Japan
Won the Kyoto Governor's Prize at the 14th Kyoto Art Festival
Won the 1st Kyoto Municipal Schools Arts & Culture Award
2001
Encouragement Award, the 5th Kobe International Flute Competition
2002
1st Place with Audience Award and Shiga Prefectural Governor's Award, General Public Category, the 7th Biwako International Flute Competition
3rd Place and the Asahi Shimbun Award, the 13th Japan Woodwind Competition
2003
Held recital at the Barocksaal
Won the 2003 Aoyama Music Prize
Semi-finalist and Jeney Prize, the International Flute Competition Budapest
3rd Place, the 20th Japan Wind and Percussion Competition
1st Place, Wind Section, the 1st Tokyo Music Competition
Performed with the Tokyo Philharmonic Orchestra
2004
Attended Seiji Ozawa Music Academy V
1st Place, Kato Award and Yoshida Award, the 73rd Music Competition of Japan
Won the Kyoto City Artist Debut Award
Performed with Geidai Philharmonia Orchestra, Tokyo
2005
Finalist, the 6th Kobe International Flute Competition
Performed with the New Japan Philharmonic, the Kyoto Symphony Orchestra, and Revolution Ensemble
Further Activities
Performed in the 25th and 27th Japan Flute Festival in Tokyo, the Obuse Music Festival, and Yamanami Music Festival.
2003-2006 the Rohm Music Foundation scholarship recipient.
Repertoire
Music that uses flutes.
My repertoire for solos, orchestras and chamber music covers a wide range of music from classical to contemporary.