Tokyo Music Competition
HAMAJI Kaname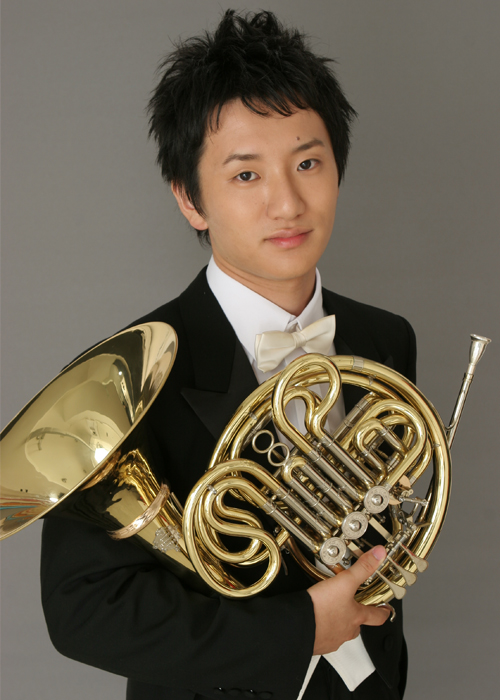 French Horn
Born in: Miyagi Prefecture, Japan
2nd place, Brass Section, The 8th Tokyo Music Competition 2010
Musical Study Experiences
Graduated top of class from Tokyo University of the Arts; continued and completed studies at the graduate school. While at school won the Ataka Prize and the Acanthus Music Prize.

Teachers
Studied under Suda Kazuyuki, Saijo Takato, Moriyama Kozo, Matsuzaki Hiroshi and Christian-Friedrich Dallmann

Musical Careers
2004
2nd Place, the 5th Japan Junior Wind and Percussion Competition
2006
Winner, High School Category, the 10th All Japan Junior & High School Wind and Percussion Instrument Solo Contest
2007
Invited to perform solo in a wind orchestra competition in Hamamatsu city
2008
3rd Place, French Horn Category, the 77th Music Competition of Japan
2009
2nd Place, the French Horn Category, the 26th Japan Wind and Percussion Competition
2010
Won Ataka Prize and Acanthus Music Prize when graduating from the Faculty of Music, Tokyo University of the Arts
2nd Place, Brass Section, the 8th Tokyo Music Competition
After serving as the principal horn of the Kanagawa Philharmonic Orchestra, became the principal horn for the Gunma Symphony Orchestra and continues up until now
Further Activities
Previously performed with the Japan Philharmonic Orchestra and the Geidai Philharmonia Orchestra, Tokyo
Performed as a guest in Kirishima International Music Festival. Participated in the Pacific Music Festival 2009 and Seiji Ozawa Music Academy 2008.
Coached for Fuji TV's drama series "Nodame Cantabile."

Repertoire
Now I am focusing on playing orchestra compositions as an orchestra player more than solos.