Tokyo Music Competition
YAGI Hisako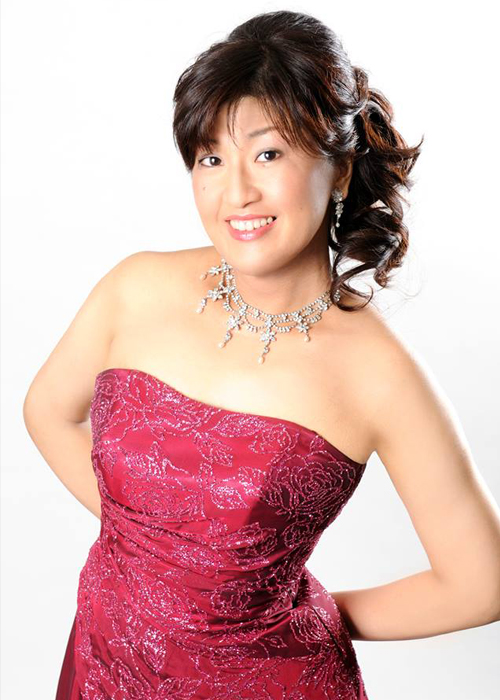 Mezzo-soprano
Born in: Fukuoka Prefecture, Japan
1st place, Voice Section, The 9th Tokyo Music Competition 2011
Musical Study Experiences
2001 Graduated from the Faculty of Education at Fukuoka University of Education
2005 Completed studies in Vocal Music Major at top of class at the Graduate School of Music, Kyoto City University of Arts
Currently a member of the Kobe City Philharmonic Chorus (2007 & 2008 Alto Part Leader)

Teachers
Studied under Fukushima Yoshiaki, Yoshida Yufuko, Hashimoto Eriko and Tsunemori Toshiko

Musical Careers
2004
Vivaldi's Gloria as Alto Solo (Ensemble Rondo led by Motoyama Hideki)
Handel's Messiah as Alto Solo (2004 Messiah Ensemble led by Sawa Masanori)
Finalist, the 15th Yuai German Lied Competition
2005
Performed in the 123rd Japan Federation of Musicians Recommended New Artists Concert (Kyushu Symphony Orchestra led by Kuroiwa Hideomi)
Beethoven's 9th as Alto Solo (Kyoto City University of Arts Orchestra led by Tabei Tsuyoshi)
Handel's Messiah as Alto Solo (Ensemble Rondo led by Motoyama Hideki)
Beethoven's 9th as Alto Solo (Kyushu Symphony Orchestra led by Kitahara Yukio)
2006
Beethoven's 9th as Alto Solo (Nishi-ku Philharmonic Orchestra led by Mizusaki Toru)
Haydn's Nelson Mass as Alto Solo (Ensemble Rondo led by Motoyama Hideki)
2nd Place, the 25th Music Contest in Iizuka
Mozart's Requiem as Alto Solo (New York Symphonic Ensemble led by Takahara Mamoru)
Mozart's Coronation Mass as Alto Solo (Kobe City Chamber Orchestra led by Uno Koho)
Won the following prizes at the 17th Yuai German Lied Competition:
-1st Place
-Encouragement Award of the Minister of MEXT (Ministry of Education, Culture, Sports, Science and Technology)
-Richard Strauss Gesellshaft Japan Prize
2007
Invited to Vienna to perform in Austrian Young Workers Movement Sponsored Concert as an extra prize of Yuai German Lied Competition
Beethoven's 9th as Alto Solo (Kyushu Symphony Orchestra led by Genda Shigeo)
Performed in the 16th ABC Debut Concert
Performed in Kyushu Summer Festival Opera Gala Concert (Kyushu Symphony Orchestra led by Makimura Kunihiko)
Haydn's Nelson Mass as Alto Solo (Kobe City Chamber Orchestra led by Koizumi Hiroshi)
2008
Performed in "Mirai kara Kuru Ensoka wo Kiku Kai (Concert for listening to the future performers)" (solo recital)
Beethoven's 9th as Alto Solo (Kansai Philharmonic Orchestra led by Fujioka Sachio)
2009
Encouragement award, Vocal Music Section, the 14th Japan Mozart Music Competition
Beethoven's Mass in C Major as Alto Solo (Ensemble Kobe led by Ban Tetsuro)
Mozart's Requiem as Alto Solo (Kobe City Chamber Orchestra led by Koizumi Hiroshi)
Beethoven's 9th as Alto Solo (Kansai Philharmonic Orchestra led by Fujioka Sachio)
2010
Mozart's Requiem as Alto Solo (Kobe City Chamber Orchestra led by Koizumi Hiroshi)
Kawachinagano My Town Opera Puccini's "Madame Butterfly" as Kate (Osaka Symphony Orchestra led by Makimura Kunihiko)
Mozart's Requiem as Alto Solo (Kyushu Symphony Orchestra led by Nagano Tetsu)
Bach's Magnificat as Alto Solo (Kobe City Chamber Orchestra led by Koizumi Hiroshi)
Beethoven's Choral Fantasy as Alto Solo (Orchestra Ensemble Kanazawa led by Inoue Michiyoshi)
Beethoven's 9th as Alto Solo (Kyushu Symphony Orchestra led by Golo Berg)
2011
Duruflé's Requiem as Mezzo Soprano (Kobe City Chamber Orchestra led by Koizumi Hiroshi)
1st Place, Voice Section, the 9th Tokyo Music Competition
Performed in ABC Homecoming Concert
Duruflé's Requiem as Mezzo Soprano (Kyushu Symphony Orchestra led by Akiyama Kazuyoshi)
Further Activities
Performs in concerts featuring various religious music and vocal music. Also as a member of Kobe City Philharmonic Chorus, Yagi actively works mainly within art-appreciation programs for Kobe City Primary School and Middle School, opera concerts, chorus training, and mini-concerts at hospitals.

Repertoire
A wide variety of repertoire such as:
Italian, German and French operas, and other vocal music (especially German lieds) from Classical era to the 20th Century;
Baroque to contemporary religious music;
not only solo performances but also I am good at ensembles with other parts in music including Beethoven's 9th and other religious pieces.