Tokyo Music Competition
KOMAI Yuriko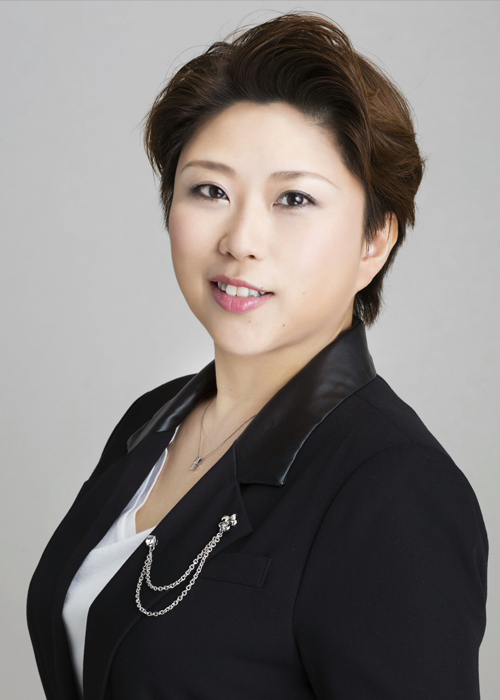 Soprano
Born in: Saitama Prefecture, Japan
2nd place, Voice Section, The 1st Tokyo Music Competition 2003
Musical Study Experiences
1993 Graduated from Tokyo College of Music High School
1997 Graduated from the Opera Course, Tokyo College of Music
1999 Completed the graduate school at Tokyo College of Music; as a scholarship student went on short term course for the International Summer Music Academy in Salzburg acquiring a diploma of Vocal Music and Italian
2001 Completed the Nikikai Opera Studio the 44th Master Class; completed the Nikikai Opera Studio the 4th Professional Course
2004 Went to France and was unanimously received Diplôme Supérieur d'Exécution from Ecole Normale de Musique de Paris
2005 Unanimously received Diplôme Supérieur de Concertiste and further completed at top of class with special jury award

Teachers
Studied under Serizawa Fumiko, E.Selig, Nomura Yoko, Nakamura Tomoko, Uwe Heilmann, Edith Mathis, U.Rüttimann, Azuma Atsuko and Takizawa Mieko

Musical Careers
1998
2nd Place, University and Adults Category, Tokyo Regional, the Student Music concours of Japan;
passed the Tokyo Bunka Kaikan Emerging Musician Debut Recital Audition and performed in the recital;
Consulate General of France Award, Vocal Music Category, Concours de musique de France (the French music competition, Japan)
2000
Selected as a Japanese Representative of Opera Category, the International Hans Gabor Belvedere Competition in Vienna; Finalist in Vienna and 2nd Morioka Prize
3rd Place, Nagakute Opera Vocal Competition
2001
Completed Nikikai Opera Studio 44th Master Class with Excellence Award and Encouragement award
2002
Finalist, the 5th Fujisawa Opera Competition;
Finalist, the Concert Marronnier 21
2003
2nd Place, Japan Mozart Music Competition;
2nd Place, the 1st Tokyo Music Competition hosted by the Tokyo Bunka Kaikan;
Finalist, the International Opera Competition "Don Giovannni" (Verona, Italy);
Received jury prize at an international vocal music competition (Paris, France);
Duo Prize, International d'Interprétation de la Mélodie Française de Toulouse (International French Melody Competition in Toulouse, France)
Current
Currently a member of Suntory Hall Opera Academy and member of Nikikai, residing in Paris
Further Activities
In vocal music: Performed on numerous stages focused on German and French songs such as Nikikai Modern French Songs Evening; Liederabend hosted by the Schubert Society; a soprano recital with Edith Mathis.
In opera: "Hansel and Gretel" (Hansel), "The Old Maid and the Thief" (Laetitia) led by Yamada Atsushi (New York City Opera), Nikikai study completion performance "Don Giovanni" (Donna Anna), the Suntory Hall Opera "Carmen" (Frasquita) hosted by the Suntory Hall, led by Marco Boemi; Shinjuku Bunka Center Opera "Der Freischütz" (Agathe) etc.
In other concerts: Performed in numerous concerts including those hosted by Nikikai, the Tokyo Metropolitan Teien Art Museum Concert, Memorial concert of Tokyo College of Music, the Suntory Hall Opera Academy Concert, Schlosskonzerte Mirabell (Salzburg Palace Concerts), Mahler's Resurrection (Soprano Solo), Beethoven's 9th Symphony "Choral" (Soprano Solo), Bach's Matthäus-Passion (Soprano Solo) as well as numerous performances with the Tokyo Metropolitan Symphony Orchestra, the Tokyo Symphony Orchestra, the Tokyo Philharmonic Orchestra and the Gunma Symphony Orchestra.
Most recently in Paris I formed a song and piano quartet further expanding my repertoire to include French songs, French opera, operettas and other pieces I am passionate about popularizing; on top of this I am active in various locations performing in volunteer concerts.

Repertoire
French vocal music: Fauré, Debussy, Ravel, Poulenc, Messiaen, Han, Roussel, Sauguet, Séverac, Betts, Honegger, Berlioz, Chausson and Satie
German vocal music: Beethoven, Mozart, Schubert, Schumann, Brahms, R. Strauss, Marx and Pfitzner
French Opera: Gounod's "Faust" (Marguerite); Berlioz's "La damnation de Faust" (Marguerite), Bizet's "Carmen" (Micaëla, Frasquita); Massenet's "Herodiade" (Salomé), "Manon" (Manon); Ravel's "L'heure espagnole" (Concepción); Poulenc's "Les Mamelles de Tiresias" (Thérèse), "Dialogues des carmélites" (Blanche), "La Voix humaine"
German Opera: Humperdincks' "Hansel and Gretel" (Hansel, Gretel); Nicolai's "Die lustigen Weiber von Windsor" (Mrs. Fluth), Weber's "Der Freischütz" (Agathe, Ännchen); Korngold's "Die tote Stadt" (Marietta); Mozart's "Così fan tutte" (Fiordiligi), "Don Giovanni" (Donna Anna, Zerlina, Donna Elvira) and "Le nozze di Figaro" (Rosina, Cherbino)