Tokyo Music Competition
MARUYAMA Akihito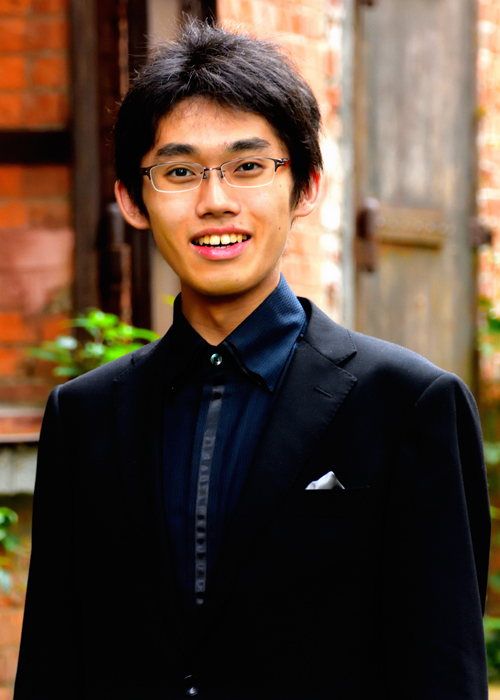 Piano
Born in: Fukuoka Prefecture, Japan
3rd place, Piano Section, The 15th Tokyo Music Competition 2017
Musical Study Experiences
2001: Began piano lessons at 3 years of age
2016: Graduated from Chikushigaoka High School
Entered the Department of Instrumental Music, the Faculty of Music at Tokyo University of the Arts
Currently 2nd-year student at the Department of Instrumental Music, the Faculty of Music at Tokyo University of the Arts

Teachers
Previously studied piano under Kido Mikiko, Fujita Michihisa, Fukuda Nobumitsu, and Hara Hiroko
Currently training under Azuma Seizo, Kurokawa Hiroshi, and Suzuki Yoshitaka

Musical Careers
2012
1st Place, Middle School Category, National, the 22nd Japan Classical Music Competition
2014
All Category Grand Prix and Mayor's Prize, the 11th Kitamoto Piano Competition
2015
1st Place at Kitakyushu Regional and Finalist at National, the 69th Student Music concours of Japan
Performed with the Tokyo Symphony Orchestra led by Kitahara Yukio
2016
Finalist, Chamber Music Category, the 6th Akiyoshidai Music Competition
2017
3rd Place, Piano Section, the 15th Tokyo Music Competition 2017
Repertoire
My main repertoire is Mozart and Chopin, especially with a focus on Chopin's works.
The rest of the repertoire is selective; however, I am working on numerous pieces among them: Beethoven's sonatas, variations, and concertos until the Middle Period; Brahms' piano sonatas and small pieces; Liszt's entire Second Year: Italy from "Années de pèlerinage."
Through the training experience on a variety of chamber music and vocal accompaniment, my repertoire also includes most of Brahms' violin, viola, and cello sonatas; from trios to quintets; and various concertos.
Some vocal accompaniments I am studying include Italian vocal music by Bellini, Rossini, Donizetti, Respighi, etc. and Japanese songs by Nakada Yoshinao as well as Schumann's song cycles.