Tokyo Music Competition
TAKAGI Ririko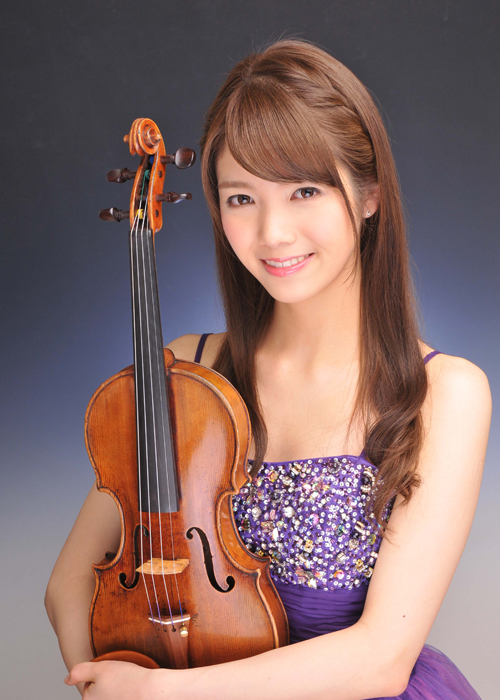 Violin
Born in: Tokyo Metropolis, Japan
2nd place, and Audience Award, String Section, The 16th Tokyo Music Competition 2018
Musical Study Experiences
2015 Graduated from the Music High School attached to The Faculty of Music, Tokyo University of the Arts
2015 Enrolled in the Department of Instrumental Music, the Faculty of Music, Tokyo University of the Arts
2018 4th-year student at Tokyo University of the Arts
Teachers
1999-2008 Hoshi Harumi
2006-2011 Shinozaki Isako
2011-Present Shimizu Takashi
Musical Careers
2010
1st Place and Tsuda Umeko Memorial Music Prize, Middle School Category, Tokyo Regional, the 64th Student Music Concours of Japan
2012
1st Place, the International Beethoven-Competition for Violin, Viola and Cello, Ost-West Musikfest (Austria)
2014
1st Place, the 1st EuroAsia Italy Competition (Cremona, Italy)
2015
1st Place, the 1st Euroasia International Competition for Musicians in Tokyo
2016
1st Place, the 1st Euroasia International Competition for Musicians in Spain (Málaga, Spain)
2017
1st Place, Strings Category, College Division, the 19th Great Wall of China International Music Competition (Tokyo, Japan)
3rd Place, Senior Division, the 1st HKIVS Shlomo MINTZ International Violin Competition (Beijing, China)
2nd Place, the 1st Bartók World Competition and Festival-Violin(Budapest, Hungary)
2018
2nd Place and Audience Award, String Section, the 16th Tokyo Music Competition
Further Activities
2017 Performed in the 11th Young Musicians' Concert at the Kanagawa Philharmonic Orchestra
2017 Performed Tchaikovsky's Violin Concerto
2018 Performed Paganini's Violin Concerto with the Fuchu City Orchestra (Hiroshima, Japan)
2018 Selected as one of the Rohm Music Foundation Scholarship Students of year 2018
Performed Mendelssohn's Violin Concerto with the Kanagawa Philharmonic Orchestra.
Received high praise at the recital at the Consulate General of Japan in New York. This performance made her to be selected as a Career Grant winner of Salon de Virtuosi and a performer of its Gala Concert at the Kosciuszko Foundation (New York, the United States).
And more appearances in various events including recitals.
Repertoire
J.S.Bach: Violin Concerto No.1, No.2
Barber: Violin Concerto
Beethoven: Violin Concerto
Brahms: Violin Concerto
Bruch: Violin Concerto, Scottish Fantasy
Dvorák: Violin Concerto
Lalo: Spanish Symphony
Mendelssohn: Violin Concerto
Mozart: Violin Concerto No.1, No.3, No.4, No.5
Paganini: Violin Concerto No.1
Prokofiev: Violin Concerto No.2
Saint-Saëns: Violin Concerto No.3
Sibelius: Violin Concerto in D minor
Tchaikovsky: Violin Concerto
Wieniawski: Violin Concerto No.1, No.2
Vivaldi: Le Quattro Stagioni
and more