Tokyo Music Competition
UENO Yoshie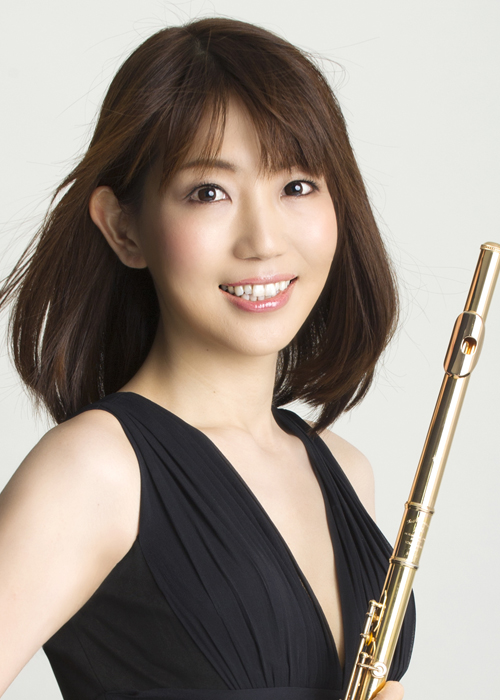 Flute
Born in: Kagawa Prefecture, Japan
2nd place, Wind Section, The 1st Tokyo Music Competition 2003
Musical Study Experiences
2001 Graduated from the Music High School Attached to the Faculty of Music,Tokyo University of the Arts
2005 Graduated from the Faculty of Music at Tokyo University of the Arts
2008 Completed graduate studies at Tokyo University of the Arts

Teachers
Previously studied under Hirao Chikayo, Iwasaki Norio, Murakami Narumi, Nakagawa Masami, Takezawa Eisuke, Chang-Kook Kim, Paul Meisen, Philippe Belnord
Studied in master classes with Aurele Nicolet, Emmanuel Pahud and Maxence Larrieu

Musical Careers
1996
Gold Prize and Takamatsu City Mayor Prize, Kagawa Junior Music Competition
1st Place, Shikoku Students Music Competition
1997
Gold Prize and Nishinippon Broadcasting Company Prize, Kagawa Junior Music Competition
1st Place, Shikoku Students Music Competition
1st Place, Middle School Category, Osaka Regional, the 51st Student Music concours of Japan
2000
2nd Place, Highschool Category, the 4th Japan Flute Competition
3rd Place, 53rd Student Music concours of Japan
2002
Recital at the Shido Concert Hall (Kagawa, Japan)
2003
3rd Place, Solo Category, the 11th Japan Flute Convention Competition
2nd Place, Wind Section, the 1st Tokyo Music Competition
2004
Performed with the Geidai Philharmonia Orchestra, Tokyo, led by Kobayashi Ken-ichiro
1st Place, Wind Section, the 2nd Tokyo Music Competition
Performed with the Czech Philharmonic Chamber Orchestra
1st Place, the Cosmos Award (the audience award), Asahi Shimbun award, and Hyogo Prefectural Governor Award, the 15th Japan Woodwind Competition
2005
Performed with:
the Japan Philharmonic Orchestra led by Kitahara Yukio
the Czech Philharmonic Sextet
the Tokyo Philharmonic Orchestra led by Umeda Toshiaki
the New Japan Philharmonic led by Hirokami Junichi
Performed before the Japanese royal families at the Toka-Gakudo music hall in the Imperial Palace
2006
Performing with the Kansai Philharmonic Orchestra led by Yamashita Kazufumi
Semi-finalist, the 1st Beijing Nicolet International Flute Competition
Participated in the Tokyo Geidai Chamber Orchestra concert in Germany
Invited from and performed at the Tongyeong International Music Festival (the Isang Yun Festival)
2007
1st Place, the Iwatani Award (the audience award), Kato Award, Yoshida Award, and E. Nakamichi Award, Flute Category, the 76th Music Competition of Japan
2008
Performed at the Prime Minister's Residence for the Japan-China Summit Reception
Further Activities
Previously performed with Japanese and foreign orchestras (the Yomiuri Nippon Symphony Orchestra, the New Japan Philharmonic, the Tokyo Symphony Orchestra, the Tokyo Philharmonic Orchestra, the Kansai Philharmonic Orchestra, the Central Aichi Symphony Orchestra, the Geidai Philharmonia Orchestra, Tokyo, the Seto Philharmonic Orchestra and the Czech Philharmonic Chamber Orchestra), led by Kobayashi Ken-ichiro, Hirokami Junichi, Kitahara Yukio, Otomo Naoto, Umeda Toshiaki, Matsuo Yoko, Ueno Masahiro, Iimori Norichika, Watanabe Kazumasa, and Yamashita Kazufumi; the Czech Philharmonic Sextet as well as the Amarcord Quartett Berlin whose members are Berlin Philharmonic principal performers.
Besides solo recitals in various places, Ueno has also appeared in numerous radio and TV programs such as NHK-FM "Meikyoku Recital," "N-Kyo (NHK Symphony Orchestra, Tokyo) Hiroba," "Kimama ni Classic." Since 2009, she has also been actively participating in the World's Children Aid charity project and holding concert tours around Japan.
Repertoire
A wide range of musical genres and periods from Baroque to contemporary.

Further Profiles