Tokyo Music Competition
TAKASE Shintaro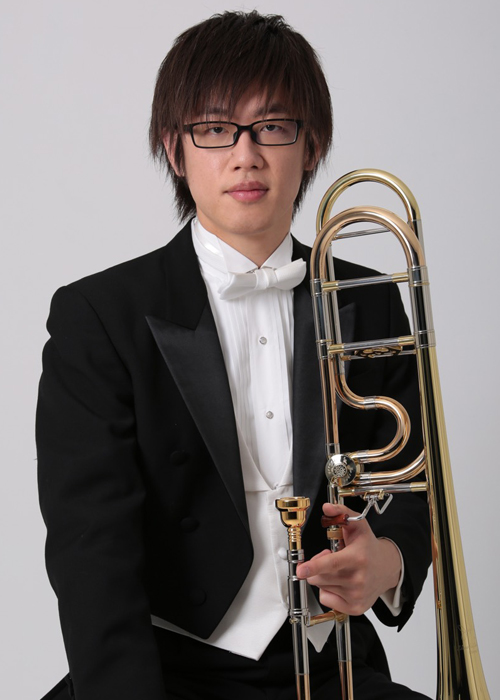 Trombone
Born in: Tokyo Metropolis, Japan
2nd place, Brass Section, The 16th Tokyo Music Competition 2018
Musical Study Experiences
2013 Enrolled in the Department of Instrumental Music, the Faculty of Music, Tokyo University of the Arts
2017 Graduated from Tokyo University of the Arts
Teachers
Studied under Kurogane Hiroyuki, Kurita Masakatsu, Koga Shinji, and Ishikawa Hiroshi. Studied chamber music under Koga Shinji, Tochimoto Hiroki, Tomono Ryosuke. Took master classes of Michel Becquet and James Markey, as well as private lessons by Olaf Ott and Jörgen van Rijen.
Musical Careers
2013
2nd Place, the 15th Japan Junior Wind and Percussion Competition
1st Place, the 24th Junior Classical Music Competition in Japan
2015
1st Place, Brass Quintet Category, the 10th Jeju International Brass & Percussion Competition
2016
Finalist, Brass Section, the 14th Tokyo Music Competition
2017
Performed in the 33rd Yamaha Wind Instruments Debut Concert
2018年
2nd Place, Trombone Division, the 35th Japan Wind and Percussion Competition
2nd Place, Brass Section, the 16th Tokyo Music Competition
Further Activities
2017 Invited to the Takefu International Music Festival as Menagerie Brass Quintet.
Currently a member of Menagerie Brass Quintet, Libertas Brass Quintet, and TromBone Switch.
Repertoire
Major solos, chamber music, concertos, and orchestra pieces for trombone. Perform not only original pieces for trombone but also various genres including contemporary music.
I actively work on brass ensembles such as quintet and dectet as well as ensemble with only trombones.