Music Program TOKYO Music Education Program

OZONE Makoto Workshop "Find Your Own Music Vol.8"
A super popular workshop series that has drawn a full audience every time is coming back again this year! The program is led by a pianist OZONE Makoto who plays a vital role around the globe not only in Jazz but also in classical music. Come and join the Ozone World where is beyond boundaries between the stage and the auditorium.

The venue of this workshop has changed from the Recital Hall to the Main Hall to keep a distance between audience members. We have adjusted doors to be open at 18:00 as well.

* Please make sure to refer to this link for the new seating arrangement. We have relocated the Recital Hall's reserved seat numbers to the Main Hall seating. (You can check it at the venue on the day of the event as well.)

* Upon attending the workshop, please visit this link to go through our precautionary measures to help prevent the COVID-19 spread and notice to visitors.

If you are not able to attend on the rescheduled day, a refund is available. Please go through the below steps for ticket refunds.
Please note that there might be additional changes in the performance depending on decisions and orders by the Japanese and Tokyo Metropolitan Government and other governmental authorities.

| | |
| --- | --- |
| Date | Thu, Jul 16, 2020 19:00 (Open 18:00) |
| Venue | Tokyo Bunka Kaikan Main Hall |
| Genre | TBK productions |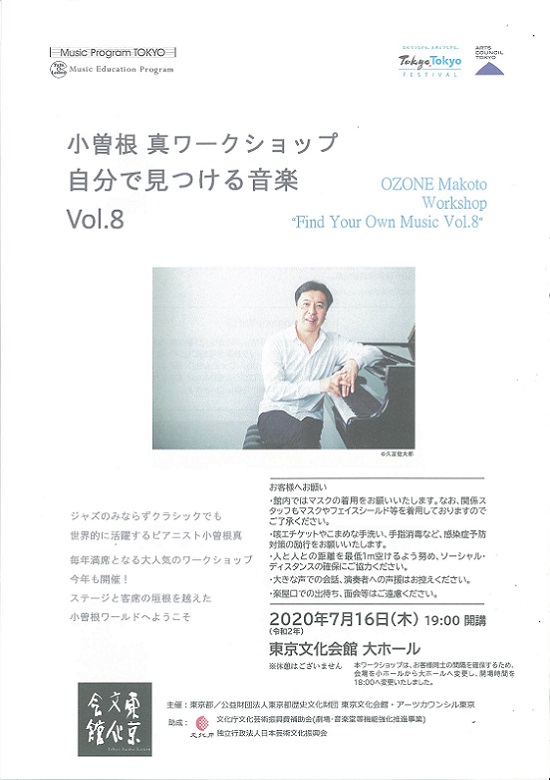 Flyer (PDF)
Notice to our patrons who are attending this performance

Please follow the below measures to help prevent the COVID-19 spread. Your understanding and cooperation are much appreciated.







⁃ We ask you not to come to the venue if you seem to have symptoms such as a fever, cough, sneezing, sore throat, or simply not feeling well.




⁃ Wear a face mask to cover your nose and mouth. Please show consideration for fellow audience members.




⁃ Strictly follow the precautions against infectious diseases such as the cough etiquette and washing and disinfecting your hands frequently.




⁃ Our staff members conduct temperature screening with thermal imaging cameras for all those who are entering the venue. If you have a fever of 37.5°C/99.5°F or higher, you are not allowed to enter the venue.




⁃ No beverage is sold in the Main Hall area.




⁃ Show your ticket to the usher. Then tear off the stub by yourself and put it in the box.




⁃ We do not hand out program leaflets and such printed materials. Please pick them up by yourself from specific areas.




⁃ The cloakroom is not available.




⁃ We do not accept flowers and gifts for the artists. Nor can you give them directly to the artists.




⁃ Allow enough time to get into the venue.




Seating Chart




Ticket Refund Procedure

[If you are not able to come to the venue, a refund is available.]




If you wish to get a refund for your tickets, please follow the below steps during the designated period.







Period for accepting refund requests:




Until Monday, August 31, 2020




(The request submission must be postmarked by the deadline.)







How to request a refund (By post only)




Please send your tickets for this performance and a sheet of paper filled out with the following information to the Tokyo Bunka Kaikan Box Office.




*Used tickets are not refundable. Refunds will only be provided for tickets with a stub attached.




* If you have not collected the tickets at a 7-Eleven shop yet, please make sure to collect them by the ticket-issuing due date. The tickets are also required for those who request a refund. You cannot get the ticket issued after the due date.







Required information:




Your name (Japanese phonetics included)




Your telephone number




The total number of your purchased tickets




Your bank account information (Please leave a note if you do not have your bank account in Japan.): bank name, branch name, account holder (Japanese phonetics included), account type (checking or savings), account number







Postal Address:




Attn: Ticket Refund Team




Tokyo Bunka Kaikan Box Office

5-45, Ueno Koen, Taito-ku, Tokyo, 110-8716




* Please note that your tickets will not be reimbursed in case the mail is not delivered to the Box Office by misdelivery and so on.







Costs you get refunded




1. Ticket Cost







2. Service fees




* All expenses presented by the box office on purchasing tickets.




* If you have purchased with tickets for other events, only the system charge and the ticket issuing fee will be refunded.







3. Postage fee for sending back tickets (Up to 244yen)




* Please note that your tickets will not be reimbursed in case the mail is not delivered to the Box Office by misdelivery and so on.







Refund Period




You will receive a refund in your designated bank account in about two months after the box office receives your tickets.




Artists

Makoto Ozone




Program

OZONE Makoto: Gotta Be Happy




Jimmy SMITH: Turquoise




Horace SILVER: The Preacher




OZONE Makoto: Reborn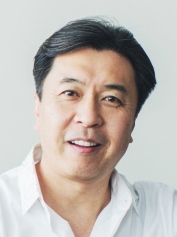 Makoto Ozone, piano
Tickets
Prices (tax included)

S2,200yen A1,650yen Under-26s 1,100yen (The price is applied to all seat categories.)




*Tickets Under-26s are only available at the Tokyo Bunka Kaikan Box Office. Valid ID required.







[Additional Tickets]




Additional tickets will go on sale at 10:00 on Wed, Jun 24. (Only available at the Tokyo Bunka Kaikan Box Office)




[Door tickets]




Tickets not available.




On Sale Date

Fri, Mar 13, 2020




BOX Office



Other Information
*The talk is given in Japanese.
*The program is subject to change under certain circumstances.
*Pre-school children are not allowed to attend this event.
*Child care service is available. (Please note: reservation and fee required. A limited number of children is accepted.)
Event Child Care Service: Mother's 0120-788-222
Reservation must be made by 17:00 on Thu, Jul 9.
*There is no elevator or escalator in the Main Hall of Tokyo Bunka Kaikan