Tokyo Music Competition
SHINOHARA Yuna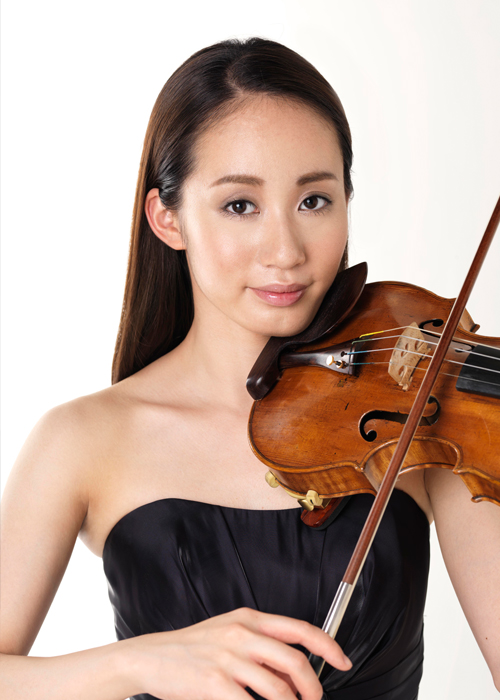 Violin
Born in: Fukui Prefecture, Japan
2nd place, String Section, The 11th Tokyo Music Competition 2013
Musical Study Experiences
Began learning violin from 4 years of age
2002 Took lessons at Ishikawa Music Academy and won the Ishikawa Music Academy IMA Encouragement Award
2005 Began taking lessons at the Courchevel International Music Academy in Kasama and won the Music Award in 2008
2009 Began taking lessons at the TOHO Strings Seminar and Gil Shaham's special master classes (open to auditors) at Toho Gakuen College Music Department
2011 Took lessons from Daniel Gaede and other musicians at the masters classes of the Kirishima International Music Festival. Won the Kirishima International Music Festival Award and received Music Director Prize from Tsutsumi Tsuyoshi.
2011 Took Zakhar Bron's master classes at the Tokyo Music Academy hosted by the Tokyo Bunka Kaikan
2012 Attended the MMCJ Music Masters Course Japan
Participated in Project Q (educational project hosted by TV MAN UNION in Japan) Chapter 10 as 1st Violin in the Quartet Rose and took lessons from Gunter Pichler
Graduated top of class from Toho Gakuen Music High School and currently in the Soloist Diploma Program at Toho Gakuen College Music Department (Special Scholarship Student)

Teachers
From 4 years of age studied under Yamashita Kinya, from 9 to present under Tatsumi Akiko.
Studied chamber music under Tokyo String Quartet, Fujii Kazuoki, Tokunaga Tsugio, Sasaki Ryo, Mori Hakuro, Harada Koichiro, Iwasaki Ko, Kato Tomoko, Yamaguchi Hiroyuki, and Urushihara Keiko

Musical Careers
| | |
| --- | --- |
| 2004 | 1st Place, Osaka Regional, Primary School Category, the 58th Student Music Concours of Japan |
| 2006 | 3rd Place, Junior Category, the 10th Henryk Wieniawski International Violin Competition (Poland) |
| 2009 | Youth Development Prize, the 7th International Violin Competition Leopold Mozart (Germany) |
| 2011 | 2nd Place and Iwatani Award (the audience award), the 80th Music Competition of Japan |
| 2012 | 1st Place, the 2nd J.B.Guadagnini Violin Competition, received the violin 1753 Model J.B.Guadagnini on loan |
| 2013 | 2nd Place, String Section, the 11th Tokyo Music Competition |
| Current | Japan Arts artist |
Further Activities
In 2003 and 2012, performed in TV Asahi "Daimei no nai Ongakukai (Untitled Concert)—Great Talents of the Future" Series. She is also actively working on chamber music and orchestra; performing in the Ensemble Series by JT, "JT Afternoon Concert by anticipated Music college student" as 1st Violin of the Lumiere Quartet, and participating in the MUSIC FESTIVAL Argerich's Meeting Point in Beppu (Beppu Argerich Music Festival) and the Miyazaki International Music Festival as an orchestra member.
Previously performed with the Orchestra Ensemble Kanazawa, the Nagoya Philharmonic Orchestra, the Central Aichi Symphony Orchestra, the Japan Philharmonic Orchestra, the Tokyo Symphony Orchestra, Toho Gakuen Orchestra, the Kansai Philharmonic Orchestra, and the Sendai Philharmonic Orchestra.
Since 2012, she has been a recipient of the Yamaha Music Foundation scholarship.
Repertoire
A wide variety from Baroque to contemporary; concertos, sonatas, virtuoso pieces, unaccompanied pieces.
I also play in chamber ensembles such as piano trios, string quartets.
I enthusiastically work on new pieces as well.