International Partnerships for Music Program TOKYO Workshop Workshop!

[CANCELED] Tokyo Bunka Kaikan Music Workshops "Animal Detective"

Discover a whole new world broadening with music across all ages—from infants to adults
Let's go seek the hidden animals in the riddle zoo!

The performance has been canceled as part of measures to prevent the spread of COVID-19 infections. Please go through the below steps for ticket refunds, and retain your tickets safely.
Date

Tue, Mar 10, 2020 [1]10:30-11:15 (Check-in 10:00)
Tue, Mar 10, 2020 [2]12:00-12:45 (Check-in 11:30)


Venue

Tokyo Bunka Kaikan Rehearsal Room

Genre

Workshop TBK productions Animal Detective

Admission Ages

[1] 6-18 months, up to 2 companions
[2] 19-35 months, up to 2 companions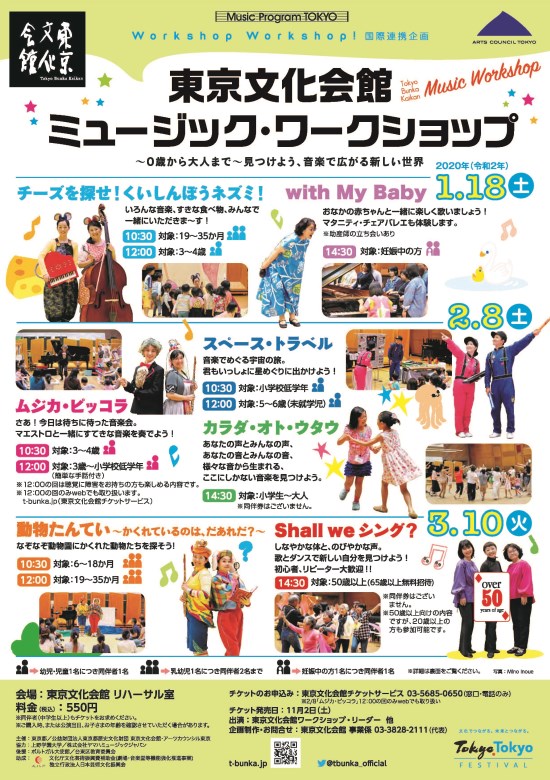 Flyer (PDF)
Cancellation of a Tokyo Bunka Kaikan production as part of measures to prevent the spread of COVID-19 infections, and ticket refunds procedure

The Tokyo Bunka Kaikan Music Workshop "Animal detective" scheduled on Tuesday, March 10, 2020, 10:30/12:00 has been canceled to help prevent the spread of COVID-19 infections.







TICKET REFUND




Please follow the below steps to request a refund.




* Your purchased ticket is required for a refund.







Period for accepting refund requests:




Sunday, March 1, 2020-Tuesday, March 31




(The request made by post must be postmarked by the deadline.)







How to request a refund onsite or by post




1. Onsite




Please bring your tickets to the Tokyo Bunka Kaikan Box Office.




* Box Office CLOSED: Monday, March 16-Tuesday, March 17







2. By post




Please send your tickets and a sheet of paper filled out with the following information to the Tokyo Bunka Kaikan Box Office.







Required information:




Your name (Japanese phonetics included)




Your telephone number




The total number of your purchased tickets




Your bank account information (Please leave a note if you do not have your bank account in Japan.): bank name, branch name, account holder (Japanese phonetics included), account type (checking or savings), account number







Postal Address:




Attn: Ticket Refund Team




Tokyo Bunka Kaikan Box Office




5-45, Ueno Koen, Taito-ku, Tokyo, 110-8716




* Please note that your tickets will not be reimbursed in case the mail is not delivered to the Box Office.







Costs you get refunded




1. Ticket Cost







2. Service fees




* All expenses presented by the box office on purchasing tickets.




* If you have purchased with tickets for other events, only the ticket issuing fee will be refunded.







3. Postage fee for sending back tickets (in case you mailed to return your tickets)




* Please note that your tickets will not be reimbursed in case the mail is not delivered to the Box Office.







Refund Period




You will receive a refund in your designated bank account by the end of May 2020. (TBD)




Maximum number of participants

approx. 20 per class




Workshop Leaders

Emi Isono, Shiori Sakurai (Tokyo Bunka Kaikan Workshop Leaders)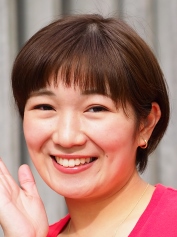 Emi Isono, Tokyo Bunka Kaikan Workshop Leader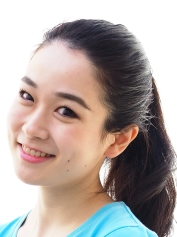 Shiori Sakurai, Tokyo Bunka Kaikan Workshop Leader
Tickets
Prices (tax included)

550yen Pre-sale sold out




*Companions (Junior high school students or older) are required to purchase the tickets.




On Sale Date

Sat, Nov 2, 2019




BOX Office

Tokyo Bunka Kaikan Box Office (Only available in person and by telephone. The office is closed irregularly.)



Other Information
To caregivers

Each workshop is prepared only for the admission ages. Small children excluding the admission ages such as participants' siblings are not allowed to attend the workshop. Your understanding would be highly appreciated.




On participating in workshops:

⁃ The workshops are conducted only in Japanese.




⁃ It requires some time for event insurance registration (the fee is included in the ticket) and for moving to the rehearsal room. Please allow enough time to get into the venue.




⁃ Check-in booth: Meeting room on the 4th floor (access from the stage door)

Tokyo Bunka Kaikan: Recital Hall Foyer




⁃ Photography and video recording may occur during the workshop for our publicity materials.




*The admission ages are determined as of the actual date of the event.




*Nursing room is available.




*Late-comers are not allowed to enter once the workshop has started. Please allow enough time to get into the venue.




*Please join with easy-to-move outfits.




*There are certain movements for a pair of one child and one companion during some of the workshops. Please note that the staffs cannot assist in case 2 children participate with one companion.




*Due to unavoidable circumstances, all workshop programs are subject to last-minute changes and cancellations.




*Child care service is available. (Reservation and fee required. A limited number of children is accepted.)




Event Child Care Service: Mother's 0120-788-222




Reservation must be made by Tue, Mar 3, 17:00.




Organizers

The Tokyo Metropolitan Government / The Tokyo Metropolitan Foundation for History and Culture; the Tokyo Bunka Kaikan/the Arts Council Tokyo