Music Program TOKYO

Platinum Series Vol.1 Rainer KÜCHL
Violin Sonatas Written by the Great German Three Bs plus One
Have a gorgeous time with celebrated artists surrounded by "amazing acoustics" at the Recital Hall.

Upon attending the performance, please visit this link to go through our precautionary measures to help prevent the COVID-19 spread and notice to visitors.
Please note that there might be changes depending on decisions and orders by the Japanese and Tokyo Metropolitan Government and other governmental authorities.
| | |
| --- | --- |
| Date | Fri, Sep 24, 2021 19:00 (Open 18:20) |
| Venue | Tokyo Bunka Kaikan Recital Hall |
| Genre | TBK productions Concert |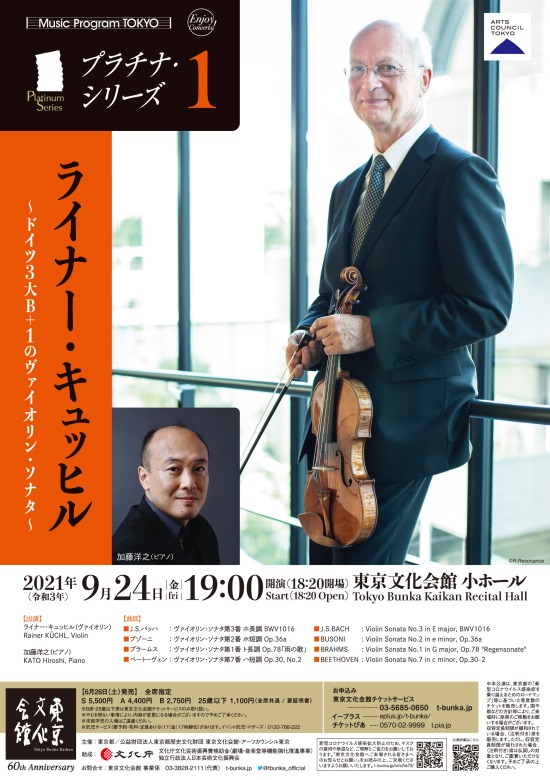 Flyer (PDF)
Notice to our patrons who are attending this performance

Please follow the below measures to help prevent the COVID-19 spread. Your understanding and cooperation are much appreciated.




⁃ We ask you not to come to the venue if you seem to have symptoms such as a fever, cough, sneezing, sore throat, or simply not feeling well.




⁃ Wear a face mask to cover your nose and mouth. Please show consideration for fellow audience members.




⁃ Strictly follow the precautions against infectious diseases such as the cough etiquette and washing and disinfecting your hands frequently.




⁃ Our staff members conduct temperature screening with thermal imaging cameras for all those who are entering the venue. If you have a fever of 37.5°C/99.5°F or higher, you are not allowed to enter the venue.




⁃ No beverage is sold in the Recital Hall area.




⁃ Show your ticket to the usher. Then tear off the stub by yourself and put it in the box.




⁃ We do not hand out program leaflets and such printed materials. Please pick them up by yourself from specific areas.




⁃ The cloakroom is closed except for large luggage.




⁃ We do not accept flowers and gifts for the artists. Nor can you give them directly to the artists.




⁃ Allow enough time to get into the venue.




Artists

Violin: Rainer KÜCHL




Piano: KATO Hiroshi







◇View artists profiles (only in Japanese)




Program

J.S.BACH: Violin Sonata No.3 in E major, BWV1016




BUSONI: Violin Sonata No.2 in e minor, Op.36a




BRAHMS: Violin Sonata No.1 in G major, Op.78 "Regensonate"




BEETHOVEN: Violin Sonata No.7 in c minor, Op.30-2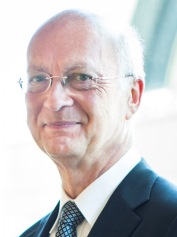 Rainer KÜCHL, Violin
Tickets
Prices (tax included)

[Day tickets]




Tickets not available.







[Update on Sep 10] * In accordance with the tightening of capacity restrictions due to the extension of a state of emergency, the ticket sales will end at 12pm midnight JST on Fri, Sep 10. There will be no day ticket sales.




Please note that all customers who have already purchased tickets will be able to attend the performances.







S5,500yen A4,400yen B2,750yen Under-26s 1,100yen (The price applies to all seat categories. Valid ID required.)




* Seat B and Under-26s are only available at the Tokyo Bunka Kaikan Box Office.




* The ticket sales for Series Packages for 5 complete performances, which were initially announced, have been suspended. Only single performance tickets are available.







* The tickets will be on sale by following the guidelines and other regulations set by the Tokyo Metropolitan Government. Please note that the ticket sales are subject to suspension depending on the restriction of the seating capacity and the sales situation.




* The frontmost row is the row A.




* The tickets are on sale at full capacity and the number of attendees is expected to be more than half of the venue's capacity.




(The information has been changed as above from the announcement on the flyer.)




Seating Chart




On Sale Date

Sat, Jun 26, 2021




BOX Office



Other Information
* The program is subject to change under certain circumstances.
* Pre-school children are not allowed to attend this performance.
* Child care service is available. (Reservation and fee required. A limited number of children is accepted.)
Event Child Care Service: Mother's 0120-788-222
Reservation must be made by 17:00 on Fri, Sep 17
Related Performances

Platinum Series Vol.2 NODAIRA Ichiro-HORI Masafumi-TSUTSUMI Tsuyoshi—Japan's Proud & Legendary Trio/Sat, Nov 20, 2021 15:00




[CANCELED] Platinum Series Vol.3 Wien-Berlin Brass Quintett—The Very Best of the Brilliant Sound/Wed, Dec 22, 2021 19:00




Platinum Series Vol.4 OZONE Makoto―OZONE60 Valentine Jazz Night/Mon, Feb 14, 2022 19:00




Platinum Series Vol.5 Hansjörg SCHELLENBERGER (Ob) & Margit-Anna SÜß (Hp)/Sun, Mar 6, 2022 15:00




* The program and the performance date of Vol.5 have been changed as above from the initial announcement.




Inquiries

Tokyo Bunka Kaikan, Production Section +81-3-3828-2111




Organizers & Supporters

Organizers: Tokyo Metropolitan Government/Tokyo Metropolitan Foundation for History and Culture: Tokyo Bunka Kaikan, Arts Council Tokyo




Sponsors & Grantors

Supported by: Agency for Cultural Affairs, Government of Japan