Music Program TOKYO Young Theater-Goers Program

TAIRA Jo & MIYATA Dai "Hamlet" (Newly Directed in 2021)
The world of Shakespeare created by a puppeteer and a cellist will be on stage featuring the astounding collaboration again!

Upon attending the performance, please visit this link to go through our precautionary measures and notice to visitors to help prevent the COVID-19 spread.
Please note that there might be changes depending on decisions and orders by the Japanese and Tokyo Metropolitan Government and other governmental authorities.
Date

Sat, Dec 18, 2021 14:00 (Open 13:15)
Sun, Dec 19, 2021 14:00 (Open 13:15)


Venue

Tokyo Bunka Kaikan Recital Hall

Genre

TBK productions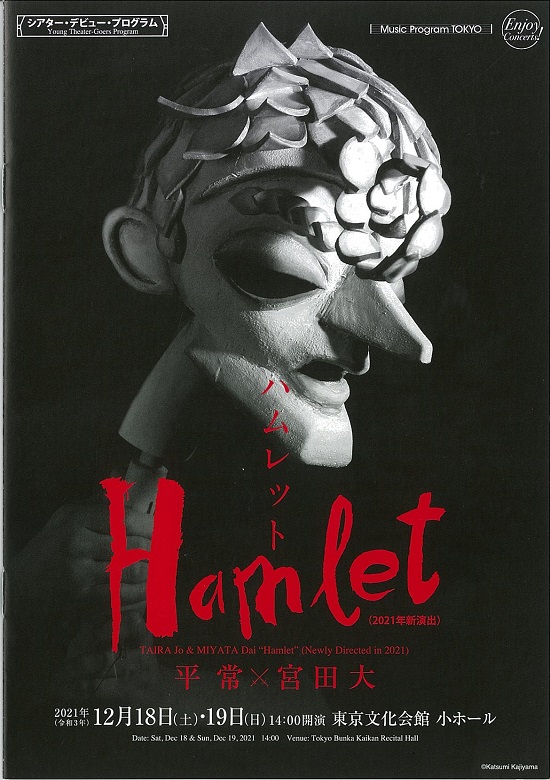 Flyer (PDF)
Estimated Run Time

Running time is approx. 2 hours and 30 mins including one intermission




Notice to our patrons who are attending this performance

Please follow the below measures to help prevent the COVID-19 spread. Your understanding and cooperation are much appreciated.




⁃ We ask you not to come to the venue if you seem to have symptoms such as a fever, cough, sneezing, sore throat, or simply not feeling well.




⁃ Wear a face mask to cover your nose and mouth. Please show consideration for fellow audience members.




⁃ Strictly follow the precautions against infectious diseases such as the cough etiquette and washing and disinfecting your hands frequently.




⁃ Our staff members conduct temperature screening with thermal imaging cameras for all those who are entering the venue. If you have a fever of 37.5°C/99.5°F or higher, you are not allowed to enter the venue.




⁃ No beverage is sold in the Recital Hall area.




⁃ Show your ticket to the usher. Then tear off the stub by yourself and put it in the box.




⁃ We do not hand out program leaflets and such printed materials. Please pick them up by yourself from specific areas.




⁃ The cloakroom is closed except for large luggage.




⁃ We do not accept flowers and gifts for the artists. Nor can you give them directly to the artists.




⁃ Allow enough time to get into the venue.




Based on the play by

William SHAKESPEARE




Synopsis

The king of Denmark, who is Hamlet's father, suddenly dies. The late king's younger brother, Claudius, marries Hamlet's mother, Queen Gertrude, and now succeeds to the Danish throne. Hamlet, deeply saddened by his father's death and his mother's remarriage, hears from Horatio that the ghost of Hamlet's father appears. Hamlet goes to see the ghost and it tells Hamlet the truth about his father's death, that Claudius poisoned him, and that Hamlet must never forgive his uncle.




Hamlet, in his anguish, decides to feign madness and find out the truth. Fearing that Hamlet is a threat to his life, Claudius devises a plot to murder him…




Music to be performed

J.S.BACH: Prelude from Cello Suite No.1 in G major, BWV1007




RAVEL: from Pavane pour une infante défunte




KODÁLY: from Sonata for Solo Cello, Op.8




VIVALDI: from Cello Sonata No.3 in a minor, RV43




and more to be selected from various composers' works




Artists

Adaptation, Direction, Art Design, and Puppet Performance: TAIRA Jo




Musical Direction and Cello: MIYATA Dai







◇View artists profiles (only in Japanese)




Creators

Kuroko Stagehands: GOZU Naomi, ARAI Satomi, ARAKAWA Aiko




Music Arrangement: KOBAYASHI Kotaro




Lighting Design: MOCHIZUKI Daisuke




Sound Engineering: MORI Takaaki




Stage Manager: UEHARA Shinji




Associate Director: INAYAMA Akiko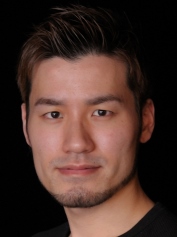 TAIRA Jo (Adaptation, Direction, Art Design, and Puppet Performance)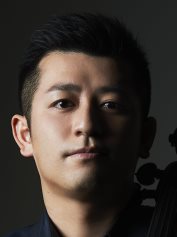 MIYATA Dai (Musical Direction and Cello)
Tickets
Prices (tax included)

[Day tickets]




Sat, Dec 18: A few tickets for S-seat go on sale at 13:00.




Sun, Dec 19: A few tickets for S-seat go on sale at 13:00.







[Additional Ticket Sales]




Tickets for S-seat go on sale on Fri, Dec 10 at 10:00. (only available at the Tokyo Bunka Kaikan Box Office)







S5,500yen A4,400yen B2,200yen *A, B Sold Out




Under-26s 2,200yen† Under-19s 1,100yen†




† The prices apply to all seat categories. Valid ID required.




* Tickets for Seat B is only available at the Tokyo Bunka Kaikan Box Office.




* Those who purchase tickets for Under-26s or Under-19s are required to bring their IDs on the day of the performance for age verification.







* The tickets will be on sale by following the guidelines and other regulations set by the Tokyo Metropolitan Government. Please note that the ticket sales are subject to suspension depending on the restriction of the seating capacity and the sales situation.




* The frontmost row is the row D.




* On the ticket sales starting date, the tickets will be on sale at full seating capacity.




Seating Chart




On Sale Date

Sat, Sep 18, 2021




BOX Office




Performance Invitation to the Youth

Eligibility: 3rd grade middle school students and 1st grade high school students




Maximum number of invitees: 50 per performance, 100 in total (Invitees will be determined by lot if the application number exceeds the limit.)




Application period: Mon, Nov 15, 10:00–Sun, Dec 12, 18:00, 2021







How to apply: Online application form must be submitted.




Application Form (The form is only in Japanese.)







Invitation notification: Invitation tickets will be sent to the invitees in the early December.




Please bring your valid ID such as students handbook and health insurance card as we may verify your age on the day of the performance.




* If an applicant submits multiple times, only the first application will be valid.




* To ensure that you receive emails from us, please add the domain "@t-bunka.jp" to the whitelist such as approved sender list you have enabled them on your email setting. (If you have set up those sender filterings on your email, you may not receive the application confirmation email.)



Other Information
* This performance is provided only in Japanese.
* The program is subject to change under certain circumstances.
* Pre-school children are not allowed to attend this performance.
* Child care service is available (Reservation and fee required. A limited number of children is accepted.)
Event Child Care Service: Mother's 0120-788-222.
Reservation must be made by Fri, Dec 10, 17:00.
COVID-19 Safe Event Checklist (PDF *only in Japanese)
| | |
| --- | --- |
| Organizers | Tokyo Metropolitan Government/ Tokyo Metropolitan Foundation for History and Culture: the Tokyo Bunka Kaikan, the Arts Council Tokyo |