Tokyo Music Competition
TSUBOI Natsumi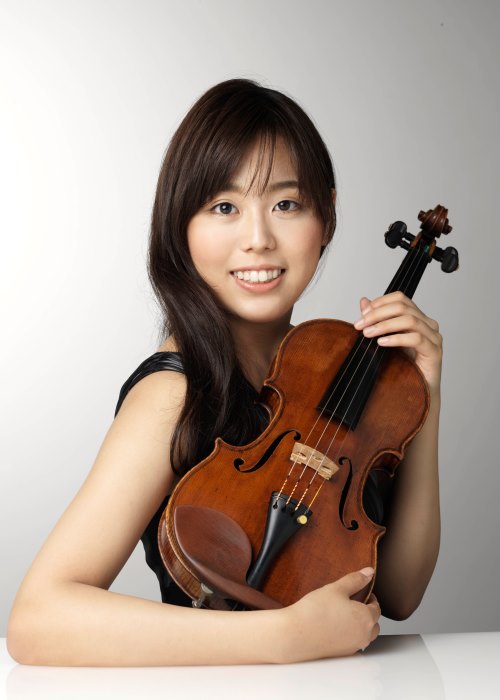 Violin
Born in: New York, U.S.A
1st place, and Audience Award, String Section, The 12th Tokyo Music Competition 2014
Musical Study Experiences
Began learning violin with Shoko Hashimoto through the Suzuki Method. Graduated from the Music High School attached to the Faculty of Music, Tokyo University of the Arts, and the Faculty of Music at Tokyo University of the Arts. Currently studying for a master's degree at the Graduate School of Music at Tokyo University of the Arts.
Previously studied chamber music at Orford Music Academy (Full Scholarship), London Master Class, Wien Master Course, Mozarteum International Summer Academy, Ishikawa Music Academy, Music Academy in Miyazaki, Ozawa International Chamber Music Academy Okushiga 2015, and the RISONARE Chamber Music Seminar.
Teachers
Previously studied under Lydia Mordkovitch, Mateja Marinkovic, Shimizu Ryoko, Kamiya Michiko, Pierre Amoyal, Urushihara Asako, Harada Koichiro and in chamber music by Kawasaki Kazunori, Oseki Hiroaki, Kawamoto Yoshiko, Ichitsubo Toshihiko and Matsubara Katsuya.
Also took various training sessions under Tokunaga Tsugio, Kawasaki Masao, Regis Pasquier, Krzysztof Wegrzyn, Oleh Krysa, and Pavel Vernikov.

Musical Careers
2007
3rd Place, Middle School Category, National, the Student Music concours of Japan
2012
3rd Place, the 81st Music Competition of Japan
Excellence Award, the 25th Newcomer Musicians Competition, Ichikawa City Cultural Promotion Foundation
IMA Encouragement award, the Ishikawa Music Academy
2012-14
Excellence Award, Music Academy in Miyazaki
2012
2013 Aoyama Music Foundation Scholarship Student
2014
1st Place and Audience Award, String Section, the 12th Tokyo Music Competition
2014 Yamaha Music Scholarship Support Recipient
2015
4th Place, Michael Hill International Violin Competition 2015
Campus winner of Ataka Prize while at Tokyo University of the Arts
2016
Campus winner of Acanthus Prize while at Tokyo University of the Arts, and performed at the Toka-Gakudo (concert hall in the imperial palace) for the Japanese imperial family
Further Activities
Previously performed with the Yomiuri Nippon Symphony Orchestra, the New Japan Philharmonic, the Tokyo Philharmonic Orchestra, the Japan Century Symphony Orchestra, the Chiba Symphony Orchestra and the Geidai Philharmonia Orchestra, Tokyo.
The 44th Ezoe Memorial Recruit Foundation Scholarship Recipient, the Rohm Music Foundation 2015 & 2016 Scholarship recipient.
Since 2014, participates in the Miyazaki International Music Festival as an orchestra member.
Plays J.Rocca's 1864 on loan from the Munetsugu Collection.

Repertoire
Baroque to contemporary compositions, unaccompanied pieces and sonatas, concertos and various virtuoso works. I am actively working on chamber music as well.